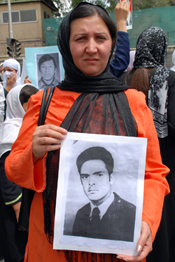 With the backing of PHR, the Afghanistan Forensic Science Organization (AFSO) was officially launched in Kabul on March 7, 2012. The AFSO was created by eighteen participants of PHR's 2010 forensic training program in Afghanistan, and funded through PHR's International Forensic Program.
The AFSO is the first non-governmental forensic science organization in Afghanistan. Its inaugural ceremony was attended by representatives of the government, the media, and human rights organizations.
Musa Mahmoodi of the Afghanistan Independent Human Rights Commission (AIHRC) stated that the AFSO fills "a gap in the human rights community of Afghanistan," and noted that while the AIHRC and other groups have recognized the widespread existence of mass graves, they did not have the expertise required for forensic documentation.
The mission of the AFSO is to document and protect the integrity of six existing mass graves in three ethnically diverse provinces in Afghanistan, as well as to raise awareness about the importance of documenting mass graves in the country at large.
Zabi Mazoori, PHR's Afghanistan Program representative and Board Member of the AFSO, asserted that the proper documentation of mass graves serves as crucial evidence of human rights violations.
"There are many missing victims of the conflicts in Afghanistan who are still waiting for their family members to be found alive or dead to bring closure… AFSO can play an important role in addressing mass graves and PHR will continue to assist by providing expert and technical support."
The AFSO's approach combines scientific documentation of physical evidence with open dialogue between civil society and the Government of Afghanistan. Historically, human rights violations and war crimes in Afghanistan have been documented through witness testimony collection and conflict mapping efforts, which generally do not produce fact-checked evidence or engagement with judicial authorities.
PHR and the AFSO seek to strengthen Afghanistan's forensic capabilities in order to form the foundation for a sustainable transitional justice strategy. Jawid Mohammadi, the Chief Finance Manager of the AFSO, noted that AFSO is strengthened by its ties to PHR, which offers valuable opportunities for collaboration and capacity-building.
Physicians for Human Rights and the International Forensic Program celebrate this historic event and sincerely congratulate the members of the AFSO for their continued hard work to bring justice, truth, and reconciliation to the long-suffering people of Afghanistan.