As the COVID-19 pandemic continues, PHR is using its global digital platforms to elevate the voices of health care professionals on the front lines of this crisis. Launched in March 2020, PHR's webinar series aims to educate advocates and health providers alike in these uncertain times. Sign up here to receive invitations to future webinars.
---
Upcoming Webinar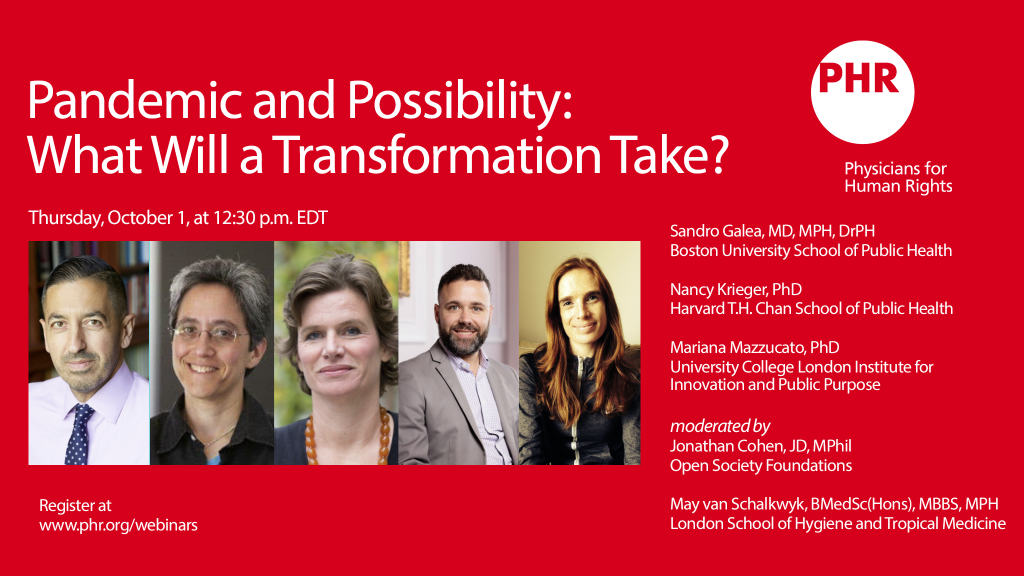 Since very early in the COVID-19 pandemic, messages of hope about the potential for the pandemic to catalyze radical social change – from universal health care to racial equity to climate justice – have emerged from diverse sectors and societies around the world. This sense of hope is not unique to the pandemic and is often expressed and acted upon in times of crisis. What actually makes such transformation possible, and how can we better understand and create the conditions for radical change that benefits all people and the planet?
On Thursday, October 1, at 12:30 p.m. EDT, Physicians for Human Rights will host a conversation to delve deeper into the transformational potential of the COVID-19 pandemic. The conversation will be moderated by Jonathan Cohen, JD, MPhil, director of the public health program at the Open Society Foundations, and May van Schalkwyk,BMedSc(Hons), MBBS, MPH, National Institute for Health Research doctoral research fellow at the London School of Hygiene and Tropical Medicine.
Our panelists will be:
Sandro Galea, MD, MPH, DrPH, dean and Robert A. Knox Professor at Boston University School of Public Health
Nancy Krieger, PhD, professor of social epidemiology in the department of social and behavioral sciences at the Harvard T.H. Chan School of Public Health (HSPH), and director of the HSPH Interdisciplinary Concentration on Women, Gender, and Health
Mariana Mazzucato, PhD, professor of the economics of innovation and public value at University College London where she is founding director of the Institute for Innovation and Public Purpose
---
Featured Webinars
Policing and Public Health
Protecting Health Care Workers Amid the COVID-19 Pandemic
Homelessness and COVID-19
Reopening: Balancing Public Health, Safety, Human Rights, and the Economy
COVID-19 Racial Disparities
The Impact of COVID-19 on Elderly Populations
---
More Webinars
---
Sign up here to receive invitations to future webinars.