As the COVID-19 pandemic continues, PHR is using its global digital platforms to elevate the voices of health care professionals on the front lines of this crisis. Launched in March 2020, PHR's webinar series aims to educate advocates and health providers alike in these uncertain times. Sign up here to receive invitations to future webinars.
---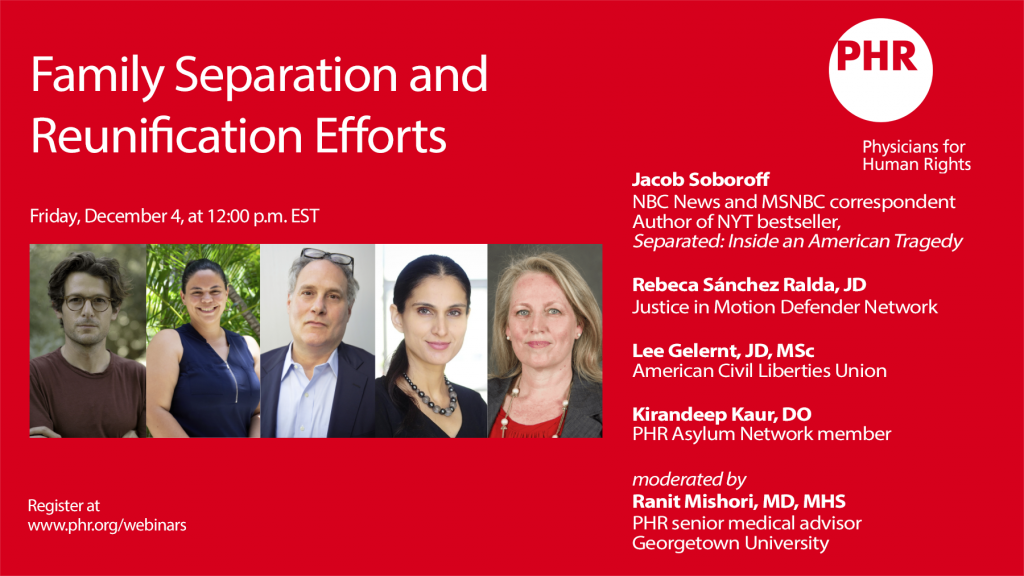 Today, the parents of 666 children separated at the U.S.-Mexico border still haven't been found. On Friday, December 4, at 12:00 p.m. EST, Physicians for Human Rights (PHR) will host a discussion on the catastrophic human toll of the U.S. administration's family separation policy and ongoing efforts to reunite families. Panelists will discuss the policy's many implications, including the health of migrant parents and children, how the COVID-19 pandemic has slowed reunification and legal efforts on the ground, and what steps are being taken to reunite families and ensure these violations of basic human rights never happen again.
Our panelists will be:
Jacob Soboroff is a correspondent for NBC News and MSNBC and one of the first journalists to report on the impacts of the family separation policy, for which he received the 2019 Walter Cronkite Award and the 2019 Hillman Prize. He is the author of the New York Times bestseller, Separated: Inside an American Tragedy (published July 2020).
Rebeca Sánchez Ralda, JD is a Guatemalan human rights lawyer and member of the Justice in Motion Defender Network, through which she conducts on-the-ground searches for parents separated from their children and helps them access legal representation. She maintains a private law practice in Guatemala City focused on family law and the rights of children and adolescents.
Lee Gelernt, JD, MSc is a civil rights lawyer at the American Civil Liberties Union, and is the lead attorney in the lawsuit that successfully challenged the Trump administration's family separation practice, Ms. L. v. ICE. His work on the case is featured in the recent documentary, "The Fight."
Kirandeep Kaur, DO is a psychiatrist who, through her participation in PHR's Asylum Network, has provided psychiatric evaluations of separated and reunited mothers at the Dilley, Texas family detention center, as well as advocated with PHR at the Department of Homeland Security against family separation.
The conversation will be moderated by Ranit Mishori, MD, MHS, PHR senior medical advisor and Asylum Network member and trainer, professor of family medicine at the Georgetown University School of Medicine, and interim chief public health officer at Georgetown University.
---
Featured
---
Protests, the Police, and the Pandemic
---
Vaccines, Reopening, and Rebuilding a Global Approach to Public Health
---
Impacts on At-risk Populations and Vulnerable Communities: the United States and Beyond
---
Sign up here to receive invitations to future webinars.