For Immediate Release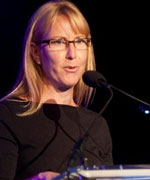 Physiciansfor Human Rights (PHR) today announced that Donna McKay will join the organizationas Executive Director in February 2012. Ms. McKay will be based in Cambridge, Mass.
Acommitted human rights activist, Ms. McKay brings more than 20 years ofinternational and domestic nonprofit experience to PHR. Most recently, she served fornearly a decade as the Director of Institutional Advancement and SpecialProjects at the American Civil Liberties Union. In this senior executiveposition, she played a critical role in transforming the organization as itresponded to the erosion of US civil liberties in the aftermath of theSeptember 11 attacks. During Donna's tenure, the ACLU's budget tripled, thesize of the headquarters staff doubled, and the organization's assets morethan tripled, propelling the ACLU to number 160 of the Chronicle ofPhilanthropy's Largest Non-profits.
"As PHR enters its 25th year of using science andmedicine to stop human rights violations, the need for our unique expertise isgreater than ever," said Robert Lawrence, Chair of PHR's Board of Directors. "Donnahas a proven track record of helping advocacy organizations strategically growtheir resources, presence, and effectiveness. I know that underDonna's internal and external leadership, PHR's global impact will besignificantly multiplied, to the benefit of millions." 
 While at the ACLU Donna designedand led "Leading Freedom Forward"—a national campaign to significantly expandthe ACLU's presence in the South and Midwest regions—working with a team ofnationwide staff and volunteers who raised over $400 million for this specialinitiative. She also co-founded and helped manage an International CivilLiberties Network, comprised of some of the world's most esteemed civilliberties groups.
"PHR'ssignificant accomplishments demonstrate time and again that thisorganization serves a crucial role in the global fight for human rights andjustice," Donna McKay said. "I am truly honored to join thegroup of exceptional staff and volunteers—past and present—who have made PHR anindispensable force in the human rights field."
Prior to the ACLU, Ms. McKayserved as Vice President for Development at the US Fund for UNICEF and chairedthe Campaign to Eliminate Maternal and Neonatal Tetanus Worldwide and she also helpeddirect awareness and resources to the worldwide HIV/AIDs pandemic. Previously,as a Director and Senior Program Officer at Planned Parenthood New York, shedeveloped sexual and reproductive health and rights programs in Malawi, SouthAfrica, Zimbabwe, and Zambia.
Ms. McKay currently serves on the board of the Women's Refugee Commissionand holds an MS in Non Profit Management and Urban Policy from the New Schoolfor Social Research.
Physicians for Human Rights (PHR) is a New York-based advocacy organization that uses science and medicine to prevent mass atrocities and severe human rights violations. Learn more here.