For Immediate Release
Physicians for Human Rights (PHR) is delighted to announce the appointment of Deborah D. Ascheim, MD, as its new board chair.
Dr. Ascheim is an associate professor in the Department of Health Evidence & Policy and a cardiologist in the Cardiovascular Institute at the Icahn School of Medicine at Mount Sinai in New York City. She is also clinical director of research and director of the Clinical Research Unit at the International Center for Health Outcomes & Innovation Research (InCHOIR) at Mount Sinai.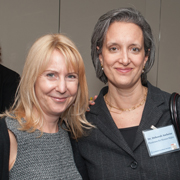 Dr. Ascheim first started volunteering for PHR in 2005 as part of its Asylum Network, one of hundreds of clinicians who donate their time to evaluate asylum seekers' claims of torture or abuse. She joined the board in 2008, recently serving as vice chair.
"For the past five years, I have had the pleasure of observing the remarkable talent and dedication of the PHR staff members and volunteers, as well as that of my fellow board members," said Dr. Ascheim. "I am confident that together we will continue to build an organization that will have increasing impact on identifying, preventing, and sanctioning human rights abuses by using the tools of medicine and science."
A graduate of Wellesley College and New York University Medical School, Dr. Ascheim completed her internship and residency in internal medicine, as well as her fellowship in cardiovascular diseases, at the New York-Presbyterian Hospital/Weill Cornell Medical Center. She completed a post-graduate fellowship at Columbia University College of Physicians & Surgeons and remained on the faculty as an attending cardiologist in the Heart Failure Center at Columbia P&S and the Mailman School of Public Health from 1995 to 2008.
"As a board member, Deborah has provided critical leadership that has helped to position PHR for the next chapter of our organizational growth," said Donna McKay, executive director of PHR. "She sees where we can make the greatest impact and has selflessly given countless hours to PHR's programming and governance.  During her distinguished career, Deborah has earned the respect of her colleagues, patients, and students, as well as all of us at PHR who have worked with her. We look forward to having her able guidance and leadership help us achieve even greater global impact."
Physicians for Human Rights (PHR) is a New York-based advocacy organization that uses science and medicine to prevent mass atrocities and severe human rights violations. Learn more here.