For Immediate Release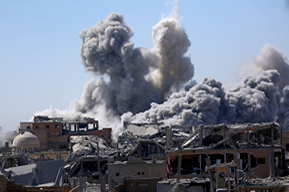 Intense fighting in Raqqa has devastated the Syrian city's health care system, even as the offensive to release the city from ISIS control has increased the need for emergency services among an ever more desperate population. In interviews with health professionals and relief personnel, Physicians for Human Rights (PHR) has confirmed that Raqqa's poorly-equipped National Hospital is now the only health care facility operating to serve tens of thousands of people remaining in the city.
"The stories coming out of Raqqa right now are truly nightmarish," said Racha Mouawieh, lead Syria researcher at PHR. "The city has been under nearly continuous bombardment since June, demolishing hospitals and clinics. Raqqa is a deathtrap where civilians who have already suffered for years under ISIS rule now also suffer the deadly consequences of the fight against ISIS."
With virtually no emergency services or rescue personnel left in Raqqa, PHR's sources said few civilians are even able to make it to the one remaining hospital. For those who do, the care is woefully inadequate. Ongoing fighting in the region has also prevented aid convoys carrying medical supplies from reaching the city since ISIS, also known as ISIL or the self-declared Islamic State, took control in 2013. And for those attempting to flee, they are at risk from ISIS landmines and snipers that ring the city, as well as coalition strikes.
"Conditions in Raqqa are truly unthinkable," said Dr. Homer Venters, PHR's director of programs. "At Raqqa's National Hospital, we've been told wounds are sanitized with just water and salt. Traumatic injuries are only treated to stop the bleeding. And even if civilians can escape the snipers and landmines encircling Raqqa, they have to travel 90 miles or more to get any additional treatment. It's hell on earth."
The latest offensive in Raqqa, launched by U.S. and coalition forces in early June this year, has involved intense bombing and shelling. PHR field sources say that since that time, any civilian gathering in Raqqa appears to be interpreted as a military target for aerial bombing or shelling. They say that, as a result, residents have stopped attempting to rescue the injured from the rubble.
"Right now, our contacts on the ground are merely begging for time between the relentless bombings to at least be able to retrieve their wounded or dead family members from the rubble," said Mouawieh. "Because Raqqa is ISIS' self-proclaimed capital and main stronghold, coalition forces seem to feel they can totally disregard the lives and dignity of people trapped there."
Since the beginning of the conflict, PHR has documented at least three attacks against Raqqa's National Hospital. Today, PHR calls on all parties to ensure the protection of civilians, access to medical care, and safe evacuation for those seeking to flee.
Additional Information
Dr. Muhammad
When ISIS took control of Raqqa in 2013, thousands of civilians fled, including many health care professionals. Dr. Muhammad, a medical specialist whose name we've changed to protect his identity, was one of the few health professionals who continued working in the city until he was forced to flee due to the latest offensive.
Like other clinicians, Dr. Muhammad was forced to close his clinics and dispensaries and started receiving patients in his home. As medical supplies dwindled, he could only provide very basic medical care. Dr. Muhammad told PHR: "I went two or three times to a pharmacy, but it was always closed." He said his patients would take any medication rather than go to the hospital, fearful that the hospital would be shelled or that they would face extortion or mistreatment from the ISIS fighters stationed at the facility.
Dr. Muhammad finally decided to leave Raqqa in mid-August after an airstrike killed two of his colleagues while they were at home. Their houses were reportedly leveled by coalition strikes. While Dr. Muhammad was fleeing the city with his daughter, a landmine exploded, injuring Dr. Muhammad and killing his daughter.
"You can hear about it but you will never imagine it," Dr. Muhammad told PHR. "Living it is not like hearing about it. This is beyond imagination. We had nothing to do with anything in Raqqa, and we are paying the highest price. This is indescribable. There is misery at every level."
Issa
Issa, a relief worker in Raqqa province who asked that we not identify him by name, confirmed the limited health care capacity remaining in Raqqa governorate, the province that includes the city of the same name. "There are two hospitals in Tal Abyad, a private hospital at al-Hakme, and the National Hospital," he told PHR. Tal Abyad is located more than 50 miles from the city of Raqqa. "Last week, they opened a private hospital in Tabqa. The hospital has a capacity of 20 beds, an operating room, and an ICU. There are many doctors in Tabqa, as most were displaced here."
Issa told PHR there is little coordination of health care in the region. There are two Médecins Sans Frontières mobile field clinics north of Raqqa. He said the injured receive first aid there and then get transferred to Tabqa, Tal Abyad, or Kobane. Kobane hospital is located some 90 miles from Raqqa and is the best equipped to treat traumatic injuries. If people are fleeing to the south, he explained, there is no triage point, and then patients attempt to travel to Tabqa, where treatment might not be available.
The provision of health care for chronic and acute illness is also inadequate in the governorate. Issa told PHR: "There is no insulin in the area. The insulin is rare and, when found, very expensive."
"Tabqa national hospital should be rehabilitated. The area has been out of ISIS control for five months," Issa told PHR. "The hospital is not severely damaged, and it was one of the most important hospitals in Syria. Putting the hospitals back in service should be a priority."
Physicians for Human Rights (PHR) is a New York-based advocacy organization that uses science and medicine to prevent mass atrocities and severe human rights violations. Learn more here.