Voters cast their ballot in Kisumu, on Lake Victoria on August 8, 2017. Fredrik Lerneryd/AFP/Getty Images
A conversation with PHR's Christine Alai
Following a decision by Kenya's supreme court to nullify August's presidential elections, the country has plunged back into campaign mode, with new elections slated for October 17. It's a victory for the rule of law in Kenya, but also a time of uncertainty and potential turmoil.
Attorney Christine Alai is head of Physicians for Human Rights' Kenya office and part of the organization's Program on Sexual Violence in Conflict Zones, working to train health professionals, law enforcement personnel, and community health workers in documenting sexual violence. She offered her perspective on what comes next for Kenya.
With new elections now on the calendar, what role do civil society groups play to ensure calm over the coming weeks?
Christine Alai: Of course, first and foremost, we will be vigilant in calling for state agencies to ensure protections for those who might be most vulnerable to violence during this period. It's a very short turnaround to go into fresh elections with all the complaints and constraints that the [Independent Electoral and Boundaries] Commission faced even during the August balloting, including challenges with the voters' register, which inevitably disenfranchised a number of voters, as well as problems with the electronic results transmission system.
In fact, I witnessed some of these irregularities as an election observer with the Law Society of Kenya on August 8. At one center I monitored, we had approximately 1,980 registered voters in three polling stations, and by the end of the day there were at least 41 voters who said they were registered but couldn't be identified using the new biometric voter system and therefore were not permitted to vote.
So, as you can imagine, as we go into another election with an already-contested process, there's likely to be a contested outcome regardless of the winner. And contested elections often result in protests.
What kinds of demonstrations – and what kinds of human rights violations – did you see in the aftermath of the August balloting?
CA: There were three days between election day and when results were announced, and during that time, tensions had been building. So by the time the government announced that Kenyan President Uhuru Kenyatta had secured re-election, protests broke out, particularly in some of the strongholds of the opposition in Nairobi and Nyanza regions. In virtually all of the affected areas, there was already a heavy presence of police. And protesters were met with brutal force.
The Kenyan National Commission on Human Rights had monitors throughout these areas and said police conducted door-to-door operations. There were reports that police pulled out male civilians and looted and destroyed properties. We also heard allegations that police threatened sexual violence against people in their own homes.
Police used excessive force throughout that weekend and employed live ammunition against reportedly unarmed demonstrators. By August 12, there were reports of at least 24 deaths at the hands of police. A recent report from Human Rights Watch showed that hundreds were seriously injured, and that among the dead were two young children, a nine-year-old and a six-month-old.
There were also credible reports of rape and sexual violence, including at the hands of police and others who may have taken advantage of the turmoil following the elections. Our partners, including community health volunteers and medical professionals, have told us they've received cases and are working to refer survivors to ensure they receive holistic medical, psychosocial, and legal care, as well as proper forensic documentation that will ensure those survivors can seek justice in a court of law. So far, we've counted at least three dozen reported cases, but those are not final figures.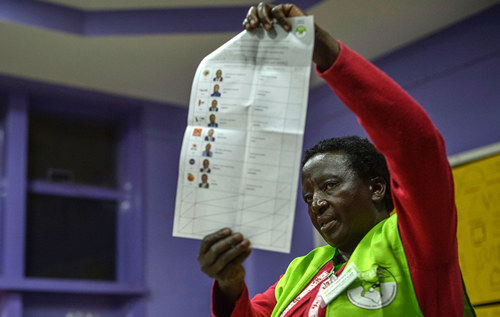 An electoral Commission official counts ballots at a polling station in Nairobi on August 8, 2017. TONY KARUMBA/AFP/Getty Images
PHR is still engaged in a court case brought by survivors of sexual violence from the aftermath of the 2007 elections. How does the knowledge from that case inform your work right now?
CA: Because of that case, we're very cognizant of the potential gaps in terms of accountability and prevention when it comes to sexual violence. That's why we feel it's urgent that the state and other stakeholder not wait for survivors to come forward. Instead, the government must take proactive steps to encourage survivors to come forward and receive needed medical-legal services in a timely manner.
Today, we have confidence that among the health professionals and others we've trained we can get strong evidence to help fill the kinds of gaps we saw ten years ago. Now, we know that when survivors go to service providers we've trained, they will receive a proper exam and there will be the proper collection and preservation of evidence.
As much as we've accomplished, however, there are still significant shortcomings when it comes to preventing and effectively responding to the kind of violence we witnessed ten years ago. For instance, nurses in public hospitals in Kenya have been on strike for over 90 days. Thankfully, the violence in August was not that widespread and private hospitals were able to offer an adequate response, but other facilities were virtually nonfunctioning. Elsewhere, there were inadequate supplies of rape kits and other tools necessary for evidence collection.
We've been in court for many years now stressing accountability not only for the attackers of the eight survivors in this particular case, but for accountability in a broad sense. But because the proceedings have been delayed, there has been no demonstrable action from the state on the steps it is taking to ensure that police are not involved in the kinds of violations we saw in 2007. Because there hasn't been accountability, we can say there isn't yet sufficient deterrence or prevention.