The little girl was so severely injured that the surgeon who attended her, a veteran clinician accustomed to treating survivors of sexual violence, was shocked. Just five years old, the child was one of dozens of young girls who were raped during a three-year reign of terror in the village of Kavumu in eastern Democratic Republic of the Congo (DRC).
"When I saw [the extent of her injuries], I said to myself that even if the forces of nature can allow something like this to go unpunished, God and man cannot allow it," said Dr. Desiré Alumeti, a pediatric surgeon who treated many of the young victims at Bukavu's Panzi Hospital, in South Kivu province, where most of the children were brought.
Last week, in a stunning victory for justice, a military court proved Dr. Alumeti right: eleven men responsible for these appalling crimes, including a powerful regional lawmaker, were sentenced to life in prison–guilty of crimes against humanity for the rapes of 39 girls and the murders of two men. The landmark case was buttressed by crucial forensic evidence provided by local medical and legal professionals trained by Physicians for Human Rights (PHR), which has assisted the investigation since the attacks began in 2013.
"This verdict is an historic win for accountability for the perpetrators of sexual violence and for access to justice for survivors and their families. It was an extraordinarily complex and challenging case and there were enormous hurdles along the way because very powerful people were presumed to be involved," said Karen Naimer, director of PHR's Program on Sexual Violence in Conflict Zones.
Children as young as 18 months were stolen in the middle of the night from homes like these, raped, and then dumped in their yards or in fields surrounding the village of Kavumu, in eastern Democratic Republic of the Congo. Photo: PHR
The assaults followed a sickening pattern. Children – all under 13 and some as young as 18 months – were stolen from their homes in the dead of night, raped and often mutilated, and dumped in their yards or the fields outside the village. It took three painful years to bring the cases to trial, three years of relentless attacks that ended only with the arrest of Frederic Batumike, a member of the South Kivu provincial assembly, in June 2016.
The court found that the perpetrators belonged to a militia led by Batumike, who was ultimately stripped of his immunity in order to stand trial. Seemingly unstoppable, the group had carried out the attacks under the guidance of a traditional occult leader, who instructed them that raping young virgins and collecting their hymenal blood would protect them against injury during armed conflict with Congolese government forces.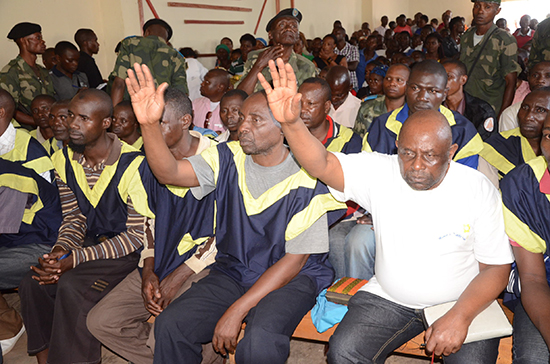 As the gruesome attacks accumulated over the months and years, PHR experts worked intensively with clinicians at Panzi Hospital to gather the forensic medical findings of the assaults, categorize injuries to help establish a pattern of criminality, and document the physical and psychological evidence. When civilian courts ignored the case, PHR, along with national and international partners, made a powerful appeal for it to be taken up by a military court.
It was in that military court – set up as a mobile unit so that the crimes could be tried in the community where they occurred – that the impunity long enjoyed by the militia finally came to an end.
Having failed to derail the proceedings on technicalities during the almost three-week trial, Batumike and his 19 codefendants stood in a packed courtroom amidst heavy security, with two UN armored personnel carriers parked outside, to hear the judgment. Village residents filled the benches, including families of survivors, many of whom said that – before this day – they had almost lost hope for justice.
As the defendants stood, eleven, including Batumike, were given life sentences for crimes against humanity by rape and murder; three others were acquitted of rape, with two of those men facing sentences on other charges. Six other men who had stood trial were acquitted of charges of belonging to an armed group.
The court also awarded reparations of US $5,000 to each of the survivors of the attacks.
"This verdict gives hope to the multitudes of silent and traumatized victims who have not dared to speak out because they had no faith in our justice system," Dr. Denis Mukwege, who founded and has led Panzi Hospital in treating tens of thousands of survivors of sexual violence, said in a statement. "This Kavumu trial is a strong message to political leaders at all levels who maintain militias. Militias that kill and rape civilians, attack Congolese armed forces and United Nations forces. Militias who commit war crimes and crimes against humanity. The message is clear: Sooner or later, justice will win."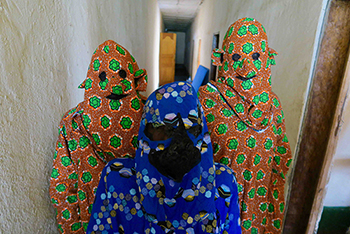 Just two days earlier, 12 parents of the young victims had taken the stand to describe the devastation the attacks had caused to their daughters and families. Following technical support and urging from PHR and its partners, the prosecution successfully requested that the court allow witnesses to testify behind a privacy screen, their bodies covered head to toe and their voices disguised with voice modification technology provided by PHR to shield their identities. After a child survivor broke down, sobbing, as discussion of her case began, the court allowed the children to be excused from testifying, as had been urged by PHR and partners.
The office of the UN's Special Representative of the Secretary-General on Sexual Violence in Conflict, which had urged DRC authorities to move the case forward, said the verdict by the military court was a significant step forward in ending impunity for sexual violence in the Congo. But it warned that in order for justice to be fully served, the reparations awarded to the child survivors must be paid and the sentences against the perpetrators carried out.
"This trial truly was groundbreaking for the justice process in the Democratic Republic of the Congo," said PHR's Naimer. "A sitting member of parliament, stripped of his immunity, was found guilty of crimes that he and his armed militia (which he controlled and financed) committed; the medical and legal evidence was comprehensive and compelling; the court took innovative steps to ensure the security and protection of victims and witnesses by shielding their identity in court and ensuring they would not testify in public sessions; and there was remarkable collaboration among medical and legal professionals, local, national, and international NGOs, and government officials."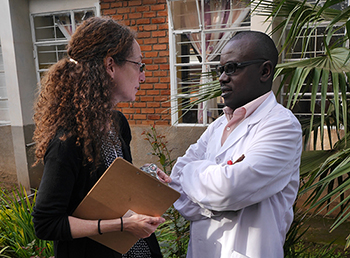 For the doctors and nurses who had the grim task of caring for the young survivors, and healing their battered bodies and minds, the verdict was an extraordinary vindication. "Sometimes I felt depressed, but the courage of others was an antidepressant for me," said Panzi's Dr. Alumeti. "I salute the solidarity that was created around these children … together, we were unstoppable."
The trailblazing case came together through the efforts of a Justice Task Force comprised of PHR, Panzi Hospital, the NGO TRIAL International, numerous Congolese civil society groups, and the Joint Human Rights Office of MONUSCO, which along with the FARDC (Congolese military) provided protection in the face of persistent security threats to survivors, their families, and witnesses throughout the investigation and during the trial. The important collaboration among so many key partners and stakeholders helped to ensure the case could progress in an effective and coordinated way.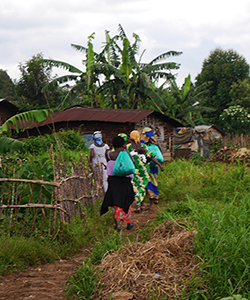 Damages in sexual violence cases are virtually never enforced in the DRC, and Naimer noted that vigorous advocacy will be needed in order to ensure that the reparations are properly implemented. It is also critical to address ongoing threats and risks to survivors, their families, and witnesses and to ensure that they can feel safe in their community without fear of reprisal.
"We need to ensure that this successful verdict is not an isolated event, but a model for how sexual violence cases can be prosecuted in the DRC going forward – so that it becomes the rule and not the exception," she said.
Susannah Sirkin, PHR's director of international policy and partnerships, said the case's outcome demonstrates the potential for justice when political will is joined to a mobilized civil society and the technical training to produce unassailable, incontrovertible evidence.
"This historic victory for justice in the Congo is a result of the incredible dedication and perseverance of the medical, police, legal, and justice professionals on the ground, and the exceptional courage of the survivors and their families in coming forward. This verdict shows that with determination and solid evidence, even the most powerful people can be held to account for their crimes."