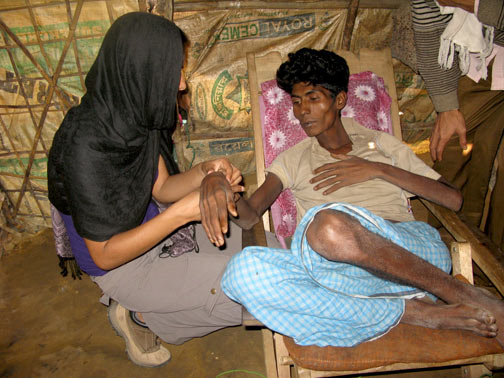 As you read this blog post, a humanitarian crisis is unfolding. Tens of thousands of Burmese refugees are in danger of dying from starvation and disease in Bangladesh.
Women and children, driven from Burma and now forced into makeshift camps in Bangladesh, need your help.
Take Action Now: Tell the Bangladeshi Embassy in Washington DC to stop deporting the refugees back to Burma and to stop blocking food aid to this vulnerable population.
PHR investigators conducted an emergency health assessment last month in the makeshift Kutupalong camp in southeastern Bangladesh, just across the border from Burma. What they witnessed was shocking. PHR investigators found camp conditions among the worst they had ever seen, with 30,000 Rohingya refugees housed in ramshackle huts made of twigs and ripped plastic, denied food aid, and living beside open sewers.
Almost 20% of the children surveyed showed signs of acute malnutrition. They need food immediately. The Bangladeshi government must provide aid to these refugees.
This week, PHR released an emergency report based on our field assessment, entitled Stateless and Starving. This emergency report has garnered major media coverage around the world—from the Boston Globe to the Associated Press; the BBC to Agence France Presse; the New York Times to Voice of America.
Now you need to sound the alarm and let the Bangladeshi government know the world will not stand by while they violate the rights of Burmese refugees. Send an email to the Bangladeshi Embassy today—and tell 6 friends to do the same. The lives of thousands of Burmese refugees hang in the balance.