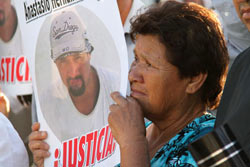 As onlookers watched from a nearby overpass, a dozen officers from US Customs and Border Protection (CBP) beat and tasered Antastacio Hernandez Rojas until he had a heart attack. Handcuffed and hog-tied, Hernandez can be heard screaming "Help" as he lay on the ground absorbing kicks and electrical shocks from CBP officers who, upon noticing the crowd watching them from above, yelled at Hernandez to "stop resisting." Near the end of the attack, which lasted almost half an hour, CBP officers can be seen in a newly-released video pulling off Hernandez' pants, kneeling on his neck, and applying a Taser directly to his skin. He died soon after.
In June 2010, the San Diego Coroner classified Hernandez' death as a homicide. But two years later, criminal charges have not been brought against the CBP officers seen beating Hernandez to death. In fact, no CBP officers have been successfully prosecuted—or even disciplined—for any of the eight immigrant deaths that have occurred along the border at the hands of CBP in recent years.
With over 60,000 officers and employees, CBP is the largest law enforcement agency in the United States. In 2007, the Bush administration began hiring new CBP agents at a rapid pace, with the goal of doubling the number of officers along the border. Today, over 21,000 agents patrol the US border, compared to only 11,000 in 2007. To accomplish this huge increase, CBP's already low hiring standards were relaxed. Thousands of rookie CBP agents were issued batons, Tasers, and guns without having to pass background checks, submit to polygraph tests, or even complete high school.
Moreover, CBP manages to avoid the public scrutiny that keeps other law enforcement agencies in check. Though it considers rocks to be deadly weapons and has killed at least two people recently who threw rocks from the Mexican side of the border, it will not release its policies on when CBP officers are allowed to use deadly force.
Anastacio Hernandez Rojas had lived in the United States for 25 years. He had five children, all US citizens. He worked construction jobs until the housing bust made work hard to find. After being arrested for shoplifting dinner for his wife on Mother's Day, he was deported to Mexico. And after tripping a sensor in the ground while crossing back into the US to be with his family, he was apprehended by CBP. He was detained while waiting to be deported again, and filed a complaint against a CBP officer who allegedly beat him in detention. That same CBP officer was in the car that took Hernandez back to the border, where he was killed.
While immigration from Mexico has drastically decreased from its high point at the turn of the century, reports of violence by CBP officers continue to emerge. The government must stop allowing CBP to act like a private militia, devoid of meaningful oversight and public scrutiny, and initiate swift criminal prosecutions of CBP officers who violate the law. Until then, CBP will continue to attack, torture, and even kill immigrants along the border with impunity.