Profession: Medical Resident in Anesthesia
Age: 28
by Simran Sachdev
Real names have not been used in this post in order to protect individuals' security.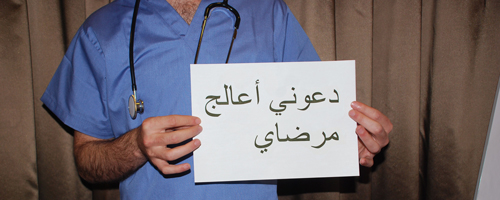 Dr. B holds a sign that says, "Let me treat my patients."

"I will die when my time comes."
Dr. B is a medical professional who has personally experienced the Syrian regime's ongoing attacks on medical personnel and facilities. He and his colleagues live in constant fear of additional attacks, anxious that another rocket will fall and demolish their hospital and all those inside. The slightest sounds and the sight of planes scare him as he anticipates the next attack – one that might take his life.
He works at two field hospitals inside Syria, both of which have been attacked multiple times. At one facility, the first attack came by aerial bombardment and struck the hospital parking lot, which was full of ambulances. Glass was shattered, but the hospital's main building was not affected. One nurse was injured and many ambulances were destroyed. The second attack came a year later when a rocket hit a pillar adjacent to the hospital, causing four casualties: a nurse, a pharmacist, a 10-year-old girl who lived nearby, and a local shop owner. The rocket injured many others, including a nurse, and damaged a number of cars and an ambulance. Dr. B shared photos of his car, which had been completely destroyed.
The second field hospital that Dr. B works in has been targeted four times. While many of the attacks were near misses and caused only minor damage to the hospital, a car bomb explosion just 650 feet from the hospital killed 10 passersby and seriously injured another four people. The victims were driven to Turkey for treatment, but all four ultimately died. Another 25 were wounded but survived. Dr. B believes that the hospitals are being targeted because they serve all patients, including those who happen to be part of the opposition.
One of the biggest problems Dr. B faces in his work is the lack of medical personnel and well-functioning facilities. Other doctors were scared to work at one of the field hospitals because the area was surrounded by security forces. Even though Dr. B's medical background is in anesthesiology, he now performs all sorts of medical procedures. Resources were so limited in the beginning that he sometimes had to drive ambulances himself and take patients to Turkey.
The constant work, minimal staff, and lack of time to eat and pray, leads to significant fatigue for Dr. B and his colleagues. He jokes about how he cannot marry because of the amount of stress and lack of time he has due to the war. He can never clear his head. At 28-years-old, Dr. B says that even though he is young, all that he has seen in the past three years is making him age faster. Adding to his stress, he worries that his work as a doctor might endanger his brother, who lives in an area under the regime's control. Despite the threats, he is resolute in his decision to stay and continue his work, saying, "I will die when my time comes."
Dr. B has also seen evidence of torture in some of his patients. He says he has seen less of this over time. In the beginning of the conflict, people were being released from prison, but they now die in jail and cannot show the world the physical signs of torture that remain long after abuse. He talks about a friend who suffered electrocution in detention; he had lacerations on his legs and paralysis in his hand. Security officials had used a Taser on him, electrocuted him on his genitals, and sexually assaulted him – sexual assault is a violation that Dr. B believes almost all men go through in Syrian detention. He also recalls a nurse colleague who had been detained and beaten, as well as a patient who had been beaten by the Free Syrian Army. Dr. B does his duty and treats these patients to the best of his ability, but being a witness to such atrocities takes a psychological toll on him.
The conflict has also interfered with Dr. B's ability to complete his medical degree. He studied medicine for six years and completed one year of residency in anesthesia before he was forced to stop, finding it too dangerous to continue at the government hospital associated with his school. He is distraught over not having a passport that would allow him to complete his medical studies abroad, as he believes that doctors who have completed their degrees are more highly respected.
Dr. B ends his story by saying that the current conditions at the hospital are "like heaven now" because there has been a slight improvement in staff resources – an ironic statement for someone who has endured many attacks and faces a real threat of aerial bombardment and death on a daily basis. But he is not always so optimistic; when discussing how the world can help the people of Syria, he says, "The whole world has turned their back to us."
Physicians for Human Rights has documented attacks on medical personnel and facilities in Syria in this interactive map.