Profession: General Practitioner
Age: 37
by Simran Sachdev
Real names have not been used in this post in order to protect individuals' security.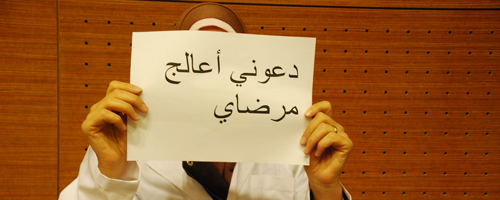 Dr. Nour holds a sign that says, "Let me treat my patients."

"We treat anybody regardless of their identity."
Dr. Nour, a general practitioner, works at a field hospital in Syria near the Turkish-Syrian border. She and the hospital are at constant risk of attack from aerial bombardment and car bombs. Sadly, she has first- hand experience with both. There have been five separate attacks on the field hospital, despite the many military targets in the area. In addition to dangers posed by the regime, Dr. Nour explains that she and her colleagues also worry about the self-declared Islamic State, which has threatened and kidnapped doctors.
During a car bomb attack in her hospital's parking lot, Dr. Nour recounts hearing the first explosion and then shaking uncontrollably – and feeling unable to face the resulting horrors and injuries. She describes how the windows shook, and she knew the horrors that would await her in the emergency unit. Despite her hesitation, a dedication to treating those in need trumped her own fears.
Dr. Nour's decision to study medicine stemmed from a realization that she could use her skills to help people – something she considers "the greatest thing in the world." While she is happy with her career choice, she has also felt extreme burnout and trauma from all the patients she has treated and war wounds she has seen. She says, "I forget. I am nervous. Sometimes I lose hope… I think that death is very near to me."
Dr. Nour's experience is a stark reminder that doctors like her are not treating simple illnesses or injuries – they are working with tragic and deadly war wounds. Upon her arrival at the field hospital, the first person she encountered was a dead child. Once she removed the cover that was shielding him, she saw his head was extremely mangled. She wasn't able to work for a week because of the shock of that sight; but after that experience, she said she became accustomed to such injuries.
She also lamented that there is a need for doctors in Syria to be better trained, as many are working far beyond their level of expertise due to the small number of medical workers who remain in the country. Some doctors were still in medical school or in the process of completing their residencies when the conflict started – but now they are conducting complex surgeries without proper training.
The town in which Dr. Nour lives has seen on-and-off fighting between the opposition and Bashar al-Assad's army. The violence led her to flee to Turkey for a period of time until she eventually returned home. Checkpoints regularly disrupted her work early on in the conflict when she was working at a clinic. A checkpoint had been erected between her home and the clinic; she was worried that she would be arrested there, so she missed work often. She eventually lost that job because of her absences and for missing the day she was supposed to renew her contract.
She currently continues her brave, life-saving work at the field hospital, and is steadfast in her resolve to save the lives of as many fellow Syrians as she can.
Physicians for Human Rights has documented attacks on medical personnel and facilities in Syria in this interactive map.