Profession: Gynecologist
Age: 49
by Simran Sachdev
Real names have not been used in this post in order to protect individuals' security.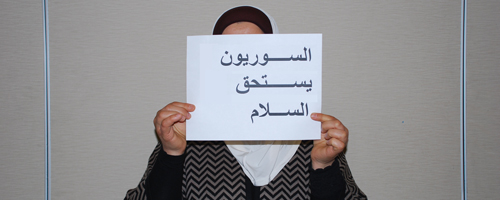 Dr. Samira holds a sign that says, "Syrians deserve peace."

"The regime considers any doctor who aids the revolution by treating protesters the same as a man who defects from the army – or even worse."
Upon hearing that Syrian government forces were retaliating against doctors for treating those involved in the revolution by attacking their children, Dr. Samira fled her home with her family and sought refuge in a nearby village. During this time, she lent her abandoned home to another family in need, as they had lost their own house during a bombing. When the Syrian army found this family in Samira's house, they assumed the children living there were Samira's. The soldiers separated the children from their parents and prepared to burn them alive. After the family insisted multiple times that these were their own children and not Samira's, the soldiers investigated and ultimately let them go.
Samira's story is a chilling, but all too common, example of the fear and persecution that doctors in Syria face on a daily basis. Multiple times throughout her country's civil war, Samira has suffered from the persistent targeting of doctors.
One of the hospitals in which Samira worked was divided into two sections during the revolution: one part remained a private hospital, while the other was turned into a field hospital where doctors would secretly treat people injured during protests. While most patients who came to the field hospital were anti-regime, the doctors did not refuse treatment to anyone, regardless of their political leanings.
Samira and her colleagues kept the field hospital secret, worried that the government would respond by bombing it. She says, "The regime considers any doctor who aids the revolution by treating protesters the same as a man who defects from the army – or even worse. And the regime believes he deserves to receive punishment." She gives the example of her husband, who has been arrested twice because he treated those involved in the uprising. Samira herself has received multiple calls from security officials asking her if she worked in a field hospital – something she continues to deny for her own safety.
Similar to other parts of Syria, Samira's town suffered from an extreme shortage of doctors – especially surgeons. Many had left for Aleppo, and some had fled Syria altogether, forcing doctors without proper expertise to perform surgeries.
Samira recalls the time when the local mosque called for blood donors over the loud speakers. People came out to donate blood; but as they were leaving, they were shelled and had to be treated with transfusions with the very blood they had just donated. She also expressed concern about how medical workers were unable to even test the blood that was being donated during those days. They simply took the blood, stored it, and used it when needed without following proper procedures.
Samira knew of at least one hospital in her hometown that was completely destroyed in 2012. She recalls that regime forces came to loot the hospital one day, and then came back the second day to burn it to the ground.
She tells stories about people who underwent torture in detention, remembering that – in the beginning of the revolution – detainees would not be released until the apparent signs of torture had mostly disappeared. But over time, the regime started releasing detainees with full-fledged signs of torture, either out of carelessness or perhaps as a method of intimidation.
After fleeing her hometown for the safety of her family, Samira stayed in a nearby village for three weeks. She tried to continue her work as a doctor, but received warnings from her colleagues that the regime would discover that she was treating protesters. She decided to leave and reunite with her husband in Turkey, who had fled before her.
Remarkably, Samira ends her story by saying she still feels optimistic: "Of course, the bill of blood we've paid hasn't been cheap. Blood is covering the earth, but we hope something will come out of it – that we will eventually live in peace and safety."
Physicians for Human Rights has documented attacks on medical personnel and facilities in Syria in this interactive map.