Profession: Urologist
Age: 55
by Simran Sachdev
Real names have not been used in this post in order to protect individuals' security.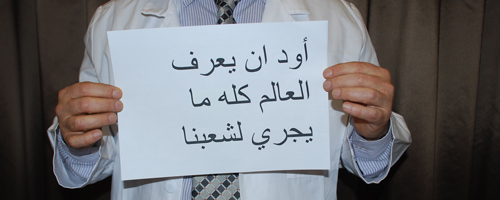 Dr. Sohail holds a sign that says, "I want the world to know what is happening to our people."

"I'm a doctor. I treat people whether they are part of the opposition, or from the Syrian army, or loyalists to the Syrian president."
Dr. Sohail was detained by the Syrian government twice; he was targeted for his activism and for being a doctor who treated injured protesters.
Dr. Sohail has spent much of the Syrian conflict treating the injured free of charge. During one period of detention, government security officials told him that he must seek permission from them before treating anyone. The first time he was detained, Dr. Sohail was held for two weeks under the charge of treating injured demonstrators. The army came to his home, went through and seized some of his things, and arrested him along with many others from his town. He says that upon arriving at the prison, he and those arrested with him were beaten.
While he is thankful that he was not tortured during his detention, he recalls hearing the screams of others as they were tortured "day and night." A friend of his, who worked for the government, spoke to the intelligence branch on his behalf and asked officers to go easy on him. After this, the officers isolated Dr. Sohail in a room, until they let him go.
The second time, Dr. Sohail was arrested at a military checkpoint. Among the many charges against him were organizing against the state and, once again, treating injured protesters. Military personnel saw blood stains in his car and accused him of transporting injured people, at which point Dr. Sohail admitted taking injured demonstrators to the hospital. That a doctor would need to "admit" to helping the injured get to a medical facility is just one example of the absurdity that Dr. Sohail faced in trying to do his job.
Once detained, he was put into a cell measuring less than 4 by 6 feet with two other people; a fourth person came the next day. He recalls how there was not even enough space to lie down. He again regularly heard the screams of other detainees being tortured and spent a month and a half in these conditions. During his detention, Dr. Sohail was blindfolded and interrogated. He told the officers, "I'm a doctor. I treat people whether they are part of the opposition, or from the Syrian army, or loyalists to the Syrian president." During one interrogation, an officer threatened that if Dr. Sohail did not speak up, the officer would hurt his son, who is a medical student.
While hearing others being brutally tortured took a psychological toll on Dr. Sohail, he also became more committed to the ideal of freedom after each arrest: "Each arrest gave me the power and energy to stay put and do more to achieve dignity and freedom and achieve the purpose of this revolution."
After his second release from prison, someone warned Dr. Sohail that a military intelligence leader had ordered someone to assassinate him. He tried to stay calm, but when the Syrian army looted one of the hospitals he worked at, and then burned it down, he went into hiding and eventually fled the country.
For some time, Dr. Sohail continued to go back and forth to Syria to work at a field hospital, until he started serving refugees at a free clinic in Turkey. He still plans to go home one day.
As for his hopes and dreams for Syria, he says that he simply wishes that Syrians could have freedom and live in peace.
Physicians for Human Rights has documented attacks on medical personnel and facilities in Syria in this interactive map.