Medical Evaluation of Fathi al-Jahmi Report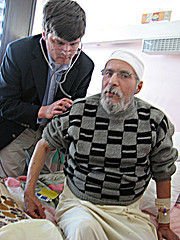 We are saddened at PHR to learn of the death earlier this morning of Fathi al-Jahmi, a prominent Libyan prisoner of conscience. He died in a hospital in Amman, Jordan. PHR is calling for an investigation of al-Jahmi's death.Mr. al-Jahmi, an outspoken critic of the regime of Mu'ammar al-Qadhafi, had been in the custody of Libyan security for the past five years, including most recently under guard at the Tripoli Medical Center. He was transported to Amman several weeks ago—reportedly in a semi-conscious or comatose state—and breathing on a ventilator. Information about his latest condition was not made public. His body is reportedly being transported to Libya for burial.PHR's Medical advisor, Scott Allen, MD, conducted an independent medical examination (PDF) of al-Jahmi in March 2008. On hearing this morning's news about al-Jahmi's death, Allen expressed his regrets and his condolences for al-Jahmi's family and then said:
Independent medical judgment has not governed the care of Mr. Al-Jahmi. Not only was he inappropriately confined in a hospital for many months—he was also placed in a psychiatric facility without cause, and the Libyan government never provided any evidence to support such an intervention.
Susannah Sirkin, Deputy Director of PHR, elaborated on Allen's comments:
Under these circumstances, an independent inquiry, including an autopsy, would be the best way to establish a factual record of what happened to Fathi al-Jahmi. PHR also believes that Mr. Al-Jahmi himself would have wanted nothing less, given his repeated requests to us last year that his medical records and conditions of confinement be shared with the world. He was a staunch advocate for freedom of expression and democracy in Libya.
Nizam Peerwani, MD, a forensic pathologist who is a senior advisor to PHR's International Forensic Program, and who has extensive experience conducting death investigations in many countries, has offered to travel immediately to Libya to conduct an autopsy and review the medical records in this case, as part of an independent investigation.As Dr. Allen said:
The Libyan government has always asserted that it has provided the best possible care to Fathi Al-Jahmi. Therefore, they should have nothing to hide and should allow a full investigation.
Photos of Fathi al-Jahmi