PHR will be at the American Public Health Association (APHA) Annual Meeting in Philadelphia Nov 7-11th. We hope to see you there! Here are the things we'll be doing:
PHR will have a booth all week at the APHA Exposition — do come by and see us!
PHR will host a Health and Human Rights Reception on Monday November 9 from 6:30-8:00 p.m. at the Philadelphia Marriott (1201 Market St, Room 403). Everyone is welcome to attend, and bring friends and colleagues — the reception is free and open to all. We'll have drinks and appetizers and plenty of mixing and mingling. We look forward to seeing longtime PHR members — and new faces!
We are also co-sponsoring the Annual Health Activist Dinner, the evening before our reception — Sunday November 8 from 6-9 p.m. at Ocean Harbor Restaurant, 3 blocks from the Convention Center. One of the award winners is GHAC advisor and doctor-activist extraordinaire Mardge Cohen. Please join PHR and the human rights and medical community in celebrating her achievements and those of all health activists like you. See more details below.
PHR staff will also be presenting on various panels throughout the week:

Successful International Experiences in Advocacy: Monday, November 9, 2009: 8:30 a.m. (two panel presentations on HAA and Colleagues at Risk)
Reproductive Health Poster Session: ?Tuesday, November 10, 2009: 4:30 p.m. (two poster presentations on sexual violence in Chad and on integration of HIV/AIDS and family planning services)
War and Public Health: Monday, November 9, 2009: 12:30 p.m. (presentation on Afghan mass graves)
Water Rights and Water Fights: Resolving Conflicts Before They Boil Over: Tuesday November 10, 2009: 10:30 a.m. (presentation on water and war crimes)
If you're coming to APHA, please email me at skalloch@phrusa.org — we'd love to meet up with you during the week. And if you are presenting, let me know, and we will add your event to the list of things to do at APHA!
Annual Health Activist Dinner
Sunday, Nov 8th, 6:00 – 9:00 pm
This Year's Barsky Award recipient: Dr. Mardge Cohen, Women's Equity in Access to Care and Treatment (WE-ACTx)
This Year's Cornely Award recipient: Dr. Josh Sharfstein, Principal Deputy Commissioner of the FDA
This Year's Wellstone Award recipient: Rep. Eric Massa (D-NY); Co-Chair, HR 676 Coalition
This Year's Activist Student Recognition: TBA
Ocean Harbor Restaurant, 1023 Race St (3 blocks from the Convention Center at 1101 Arch St.)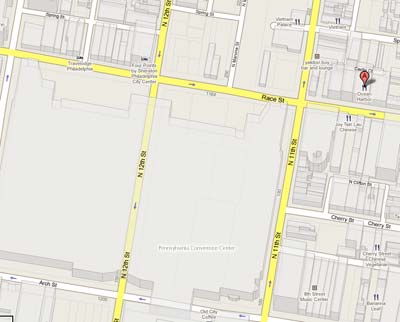 View Larger Map
$45 in advance, $50 at the meeting
RSVP Today!
Make Checks Payable to: OHSI – Activist Dinner Occupational Health Services Institute UIC Medical Center (MC684) 835 S. Wolcott Street, Chicago, IL 60612
Phone: 312-996-5804, Fax 312-413-8485
For more information: porris@uic.edu
AFSCME, American Medical Student Association, Committee of Interns and Residents/SEIU Healthcare, Department for Professional Employees, AFL-CIO, Doctors for Global Health, International Physicians for the Prevention of Nuclear War, Physicians for Human Rights, Physicians for a National Health Program, Physicians for Reproductive Choice and Health, Physicians for Social Responsibility, The Physicians Forum, Doctors Council SEIU
New Sponsors Welcome