Kenya Journal
Day 2: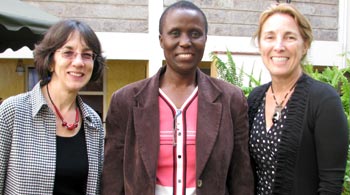 Dr. Emily Rogena teaches forensic pathology at the University of Nairobi School of Medicine. Her soft voice and sweet smile belie a hard-nosed scientist who has worked for years to develop better systems to deal with sexual abuse, torture, and violence. Together with our colleague, obstetrician-gynecologist Dr. Odongo Odiyo, she helped found the Tukomeshe Unajisi Network [TUN] in 2003.
TUN is a coalition of groups working to stop violence against women in Kenya. They've represented the Kenya Medical Association within this coalition. All together these professionals and activists helped gain the passage of Kenya's Sexual Offenses Act of 2006, a law which allows forensic evidence to be entered into court evidence to demonstrate the circumstances of an assault and its impact on sexual violence victims. No one anticipated the widespread rape that would occur a year later in the devastating post-election rampages, including rape by the police. At the time as well, a Kenya Medical Association doctor was arrested for documenting some of the attacks.
We meet several TUN members at Amnesty International, which has hosted the Network in recent years. Charity and Purity are among the impressive younger women engaged in TUN. Charity works for a shelter as a legal officer, supporting through the court process women who have fled unbearable situations, including beatings and banishment for being raped, repeated violence at the hands of boyfriends and other men, and gang rapes.
Another young woman, Wangu Kanja, has a quiet confidence which has launched an activist foundation in her own name. She hands out multi-colored bookmarks to all of us which say "Rise Up Against Sexual Assault & Abuse" on one side, and a six-step list of instructions for women and girls in the aftermath of sexual violence on the other. The first is "Ensure your personal safety by going to a safe place (hospital or police station)." The last is "Seek legal redress." During the next ten days in Kenya and eastern Congo, we'll see how responsive the systems are to a woman who follows this advice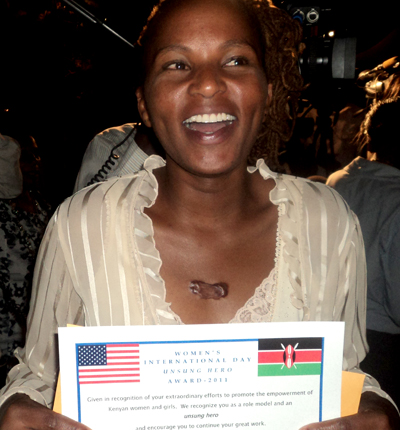 UPDATE: PHR would like to offer a warm congratulations to Wangu Kanja, who was awarded the Women's International Day UNSUNG HERO AWARD 2011 by the US Embassy in Nairobi on March 8th. She received it in recognition of her extraordinary efforts to promote the empowerment of Kenyan women and girls.