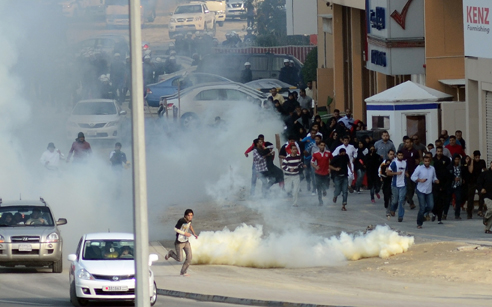 Based on interviews with local physicians and analysis of news reports, the Government of Bahrain's oppressive use of tear gas in recent months has reportedly killed both young and old civilians in their homes and in the streets of Manama, the Gulf Kingdom's capital.
PHR has compiled a list of 34 reported tear-gas-related deaths in Bahrain since the uprising began a year ago. Based on media and other accounts, most civilians who allegedly died from tear gas reportedly have suffered complications from gas inhalation; at least three civilians reportedly died after security forces fired metal tear gas canisters (nearly the size and half the weight of a can of Coke) from grenade launchers into crowds.
Government forces not only assault unarmed street protesters with tear gas during the day, they also attack innocent women, children, and the elderly with tear gas in their homes at night.
Fourteen-year-old Yaseen Jassim Al Asfoor reportedly died from tear gas inhalation after security forces threw three tear gas canisters into his home.
In another recent incident, an elderly woman named Sakeena Marhoon apparently died from repeated exposure to tear gas in her home.
The Government's use of tear gas is so widespread and excessive that many families are now forced to stuff towels in doors and cracks in windows to protect them from the toxic clouds of gas outside.
Victims of these indefensible deaths and their families are not receiving the justice they deserve. Not only has the government failed to investigate or prosecute any law enforcement officials for employing such excessive force, but authorities also reportedly prohibit doctors from listing tear gas as a cause of death. Instead, coerced doctors have reportedly cited natural or unknown causes of death for some tear-gas related casualties.
While PHR has not analyzed tear gas in Bahrain, our report shows the use of it in confined spaces has deleterious and toxic effects (pdf).
The 1989 JAMA study found that detonating tear gas in small enclosed spaces creates a toxic concentration, which can cause permanent damage to the human body, including chemical pneumonitis, heart failure, fatal pulmonary edema, and death.
Last year PHR investigators in Bahrain found disconcerting evidence that Bahraini authorities may be using unidentified chemical agents in addition to tear gas. Doctors reported to PHR that they had treated patients exposed to tear gas who exhibited atypical symptoms, including non-epileptic seizures and hysteria. Further, Bahraini authorities at the Ministry of Health deny doctors' requests to analyze the residue and chemical content of exploded tear gas canisters.
The US Department of State condemns the excessive use of force, and the 2012 omnibus spending bill (pdf) includes language requiring the Secretary of State to report on "any crowd control items, including tear gas, made available with appropriated funds or through export licenses to foreign security forces that the Secretary of State has credible information have repeatedly used excessive force to repress peaceful, lawful, and organized dissent."
Well known to Bahrain's Shia population who wake up each morning to find their streets littered with empty tear gas canisters, the Government of Bahrain acquires tear gas from Pennsylvania-based companies, whose "USA" label is stamped on each blue canister.
With nearly a fourth of all casualties occurring in February 2012, the US government must press Bahraini authorities to stop their lethal use of tear gas against innocent civilians and abide by international standards as well as their own national code of conduct for law enforcement officials, for the proper use of riot-control agents.