PHR salutes his work and calls for his freedom; Dr. Jonathan Fine observes trial
The trial of celebrated Indian pediatrician Binayak Sen, a tireless advocate for the poor and marginalized in India's Chattisgarh State, ends on Friday, December 24. A judge is expected to deliver a verdict in this widely-watched case that is marked by unsubstantiated allegations and intimidation of human rights advocates.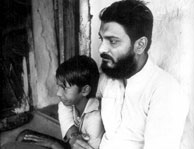 PHR and dozens of other human rights and medical organizations have repeatedly called for the release of the doctor who is being tried for alleged conspiracy against the State. Dr. Sen was arrested in 2007, detained for two years, and released on bail in May 2009. In 2008, he was awarded the Jonathan Mann Award for Global Health and Human Rights by the Global Health Council. Sen was unable to attend the ceremony in Washington that year but his wife, Dr. Ilina Sen, received the honor on his behalf.
PHR calls on those involved in the decisions related Dr. Sen's plight to recognize that the case has involved innuendo and politicized charges from the very beginning. Many following the trial, including Indian journalists for major national newspapers have described the trial as "farcical."
PHR's founder and first executive director, Dr. Jonathan Fine, is currently in Chattisgarh and will be in the Court to observe the closing of the case and verdict. Informed observers have repeatedly stated that the arrest and trial of Dr. Sen is an effort by Chattisgarh authorities to vilify and intimidate those who advocate for the poor and marginalized tribal populations in India. Sen has been charged for his alleged involvement with prisoners who are part of the banned Communist or Maoist parties. Chattisgarh has experienced years of violence between armed Maoist groups and Salwa Judum, an armed anti-Maoist movement with suspected state support.
Indian authorities allege that the doctor transferred notes from an imprisoned Maoist leader, Narayan Sanyal, to another Maoist leader, Piyush Guha, arresting Dr. Sen under the Chhattisgarh Special Public Security Act (CSPSA) and the Unlawful Activities (Prevention) Act (UAPA), as the Communist Party of India is banned in Chhattisgarh. Dr. Sen denies these accusations stating that his visits to the prisons were constantly supervised by prison authorities, as required by the Jail Manual. Dr. Suranjan Bhattacharji, Director of the Christian Medical College, speaking of Dr. Sen's case and the violence that has overwhelmed Chhattisgarh stated, "Binayak has always condemned that violence. He has always insisted that violence will not solve any problems. He has been speaking up for poor people. In our country growth and development is not inclusive. He has been trying to remind civil society that we have a responsibility towards all, not some, and that has been an unpopular act."
Dr. Sen is a graduate of the Christian Medical College in Vellore, India. In the early 80's, he worked with iron ore mine workers and their trade union, establishing the Shaheed Hospital which served both mine workers and the local non-mining community in Chattisgarh. In the early 90's, Dr. Sen, along with his wife, Ilina, founded a non-profit health and human rights organization, Rupantar, which trained community health workers and reached dozens of villages. In 2002 Dr. Sen was elected Vice-President of the People's Union for Civil Liberties (PUCL), one of India's leading human rights organizations.
On presenting the Jonathan Mann Award to Dr. Sen in 2008, Dr. Nils Daulaire, then president of the Global Health Council, stated, "He [Dr. Sen] staffed a hospital created by and funded by impoverished mine workers, and he has spent his lifetime educating people about health practices and civil liberties – providing information that has saved lives and improved conditions for thousands of people. His good works need to be recognized as a major contribution to India and global health; he is certainly not a threat to state security."
PHR urges health professionals and their institutions around the world to call for the release of Dr. Sen so that he can return to his remarkable work supporting the poorest of India's poor.