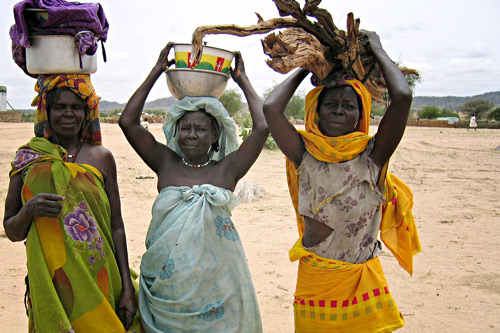 This is not my country. We get raped when we leave the camp. In my village, we could do what we wanted and there was enough food. I want to go back to my village, but it's still not safe.
This is one of 88 Darfuri women now living in the Farchana refugee camp in Chad, who were interviewed for the new Physicians for Human Rights report Nowhere to Turn: Failure to Protect, Support and Assure Justice for Darfuri Women. Nowhere to Turn will be published this Sunday, May 31, 2009. The Darfuri women interviewed for the report spoke about the sexual assaults visited upon them both in Darfur and in the environs of the refugee camps in Chad. They spoke about their lives and difficulties in the camp. The report found that the Darfuri women refugees:
reported a general insecurity and unhappiness about life in the camp. Many reported being terrified of going out of the camp to graze animals or collect wood for fear of being beaten or raped. Women noted that though they had reported assaults to camp authorities, there was no response. Some feared that their families would find out if they reported the rapes. Women said that they preferred to suffer in silence rather than risk repercussions.
Nowhere to Turn reveals the profound stigma and physical violence to which many women have been subjected as a result of sexual assault. It portrays the tenacity and courage of these women who have protested gender discrimination and violence in a declaration they wrote proclaiming their lack of freedoms entitled the "Farchana Manifesto," discussed in the report and available at DarfuriWomen.org.Nowhere to Turn makes specific recommendations regarding prevention and protection for the Daruri refugees, justice and accountability for the crimes committed against them, and support to survivors.The findings in the report should work to compel a just solution to the crisis in Sudan that allows these survivors to return home.